Bayan Ardakh. They are lonely, they are unhappy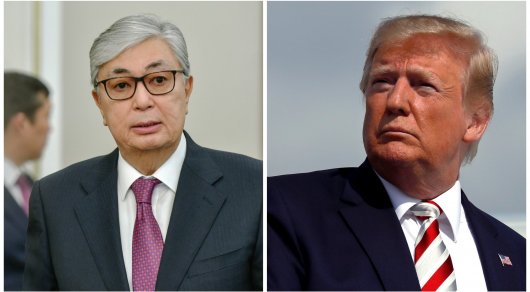 If we consider Mr Donald Trump as the loneliest president in this world, then we are wrong. The president of the Republic of Kazakhstan Mr Kassym-Jomart Tokayev is also lonely and unhappy. No-one fully understands him, except himself. Why? So, let's dwell on that.
We all are aware, how Mr Donald Trump came to power. Firstly, he barely won the presidency through a hard election process. Then he was accused that he had collaborated with Russia. Afterwards, he had changed his employees many times and provoked many people. Now, there is an impeachment trial because of the Ukrainian issue. All in all, no-one loves Mr Donald Trump, he is widely hated. It seems like his allies and rivals are interested only in his policies, which is different from politics' outlook. For example, his speeches without thinking and words that are incompatible to each other. Moreover, his behaviours that are illegal and immoral not similar to former US presidents. As he flatters the dictators such as W.Putin and Xi Jinping, actually makes them fun. It seems like voters voted not on Trump, but on their indignation about the way they had been treated. In this case, Mr Donald Trump is solitary and miserable.
Mr Kassym-Jomart Tokayev's issue is similar to Mr Donald Trump's. Heretofore, while others were running a business, making more money and becoming more wealthy, Mr Kassym-Jomart Tokayev did not attract any attention. The honest, straightforward person, who did every task on time. For many years he was the number second person in the country and suddenly became the president. But, from that moment real amusement starts. We all know the last year's election process. Mr Kassym-Jomart Tokayev could not openly celebrate his victory. Besides, the ex-president is ruling the country with him. Mr Kassym-Jomart Tokayev's Ministers and Akims have been working since the ex-president's time. So, there is doubt about their loyalty to Mr Kassym-Jomart Tokayev's authority. Nevertheless, the political situation in the country is worsening. There are enough problems that have accumulated for more than thirty years. Almost everyone needs to make quick decisions and take concrete policy reforms.
In conclusion, Donald Trump and Kassym-Jomart Tokayev have much in common. Both of them have power and authority. But, they cannot live as they want. They are ruled by others. All they have to do is to get rid of it. But the result is imperceptible. In this political system the employees, the nation seem to be far from them. They have only one true friend. It is loneliness. For example, you are the president, anything is possible for you, but you are not capable enough to do anything. Probably, it is the biggest paradox. So, you are the unhappiest person, are not you?
Сайт материалын пайдалану үшін редакция келісімі керек және гиперсілтеме жасау міндетті ©Білге - Мәдениет пен өнер сайты